Troy Hepfner from MyGameCompany informed me about his latest game Dirk Dashing 2: E.V.I.L Eye !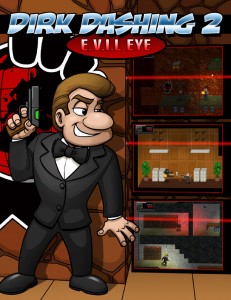 Secret agent Dirk Dashing returns for a brand new mission! After a wicked computer virus destroys G.O.O.D's new computer network, Dirk must track down the cyber criminal responsible for the attack. His mission leads him to a massive global corporation, owned by one of the wealthiest men in the world. Help Dirk avoid security systems, evade guards, and solve all-new puzzles to stop a diabolical new plot by E.V.I.L mastermind, Dr. Ego!
Dirk Dashing 2: E.V.I.L Eye is available for Windows, Mac, and Linux for $19.99.
A strategy guide will also be available very soon, containing full-color level maps, hints, tricks, concept art, and more.
You can find more information about the game at the official Dirk Dashing web site
Screenshots