As I wrote earlier,   Legends of Aethereus is a co-op (and solo) action RPG game.
I was hoping that they will get more more of the modest 25k they asked, but as long as it's funded (~28k) it's good enough.
Also I want to point out the interview my friend Todd from LinuxGameNews.com had with  Legends Of Aethereus marketing manager Sean Kauppinen several days ago.
There are even reachable stretch goals :
Stretch Goal 1 – $27,500.00  
Ouya Elite Developer Package 
This will let us stay connected with OUYA development and see if we can produce some version of LoA that works on the platform. Unity 3D is Android compatible so we hope that we can get something to work on OUYA. We're also reaching out to them to see if we can setup something more "Official" with them if we hit this stretch goal.
Stretch Goal 2 – $30,000.00 
Exclusive Kickstarter Secret VIP Room 
Only for players that buy the game through Kickstarter. We will have a secret door in your Nexus City-State that only Kickstarter supporters can enter. In this room we will give you bonus materials, gear, weapons, gems and other goodies. Periodically we will add a goody bag in the room so you will get a nice little surprise from time to time. Only available to Kickstarter Supporters.
Stretch Goal 3- $35,000.00 
Legendary Game Designer Scott Foe Designed Quest Line
Legendary game designer Scott Foe from Phantasy Star Online and Reset Generation fame will create a bonus quest line campaign. He's a friend of ours and has said if we hit this level, he's in! This new campaign will add hours of extra game play and be downloadable completely free. Of course Scott will add his own touch that will create a whole new twist to the LoA story line.
Here is an awesome gameplay video – watch till the end (Not in English).
And for those who want to know even more about this wonderful game :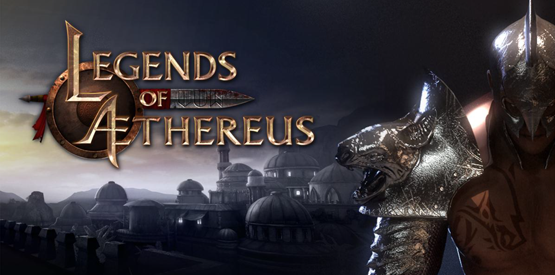 Fact Sheet
________________________________________________________________
Legends of Aethereus is a high action low fantasy RPG with four player coop and a variety of PvP game types.
Join forces in on-line multiplayer cooperative expeditions as the Inventor, Astrographer or Officer and venture into uncharted wilderness of Aethereus seeking fame, glory and untold riches.
Invite your friends to your own customized Nexus City-State to battle in your arena or just to show off how cool you have personalized your city using the statue-maker, banner creator and other customization features.
Embark on a variety of story driven hand-crafted expedition levels or explore the wilderness through a variety of procedurally generated exploration quests. Design and build new gear and weapons while you develop your character with diverse and expansive skill tree allowing for a multitude of character strategies.
________________________________________________________________
Features
-Physics-based combat system including traps, set-up weapons and interaction with environmental objects
-Expedition system combines hand crafted levels with procedurally generated areas that allow for virtual infinite replayability
-The Statue-Maker, Banner Creator and other customization features allow you to personalize your own city environment
-PvP, CO-OP and Single Player combat in your own City-State Combat Arena.
Crafting and Materials system allows for virtual limitless customization
________________________________________________________________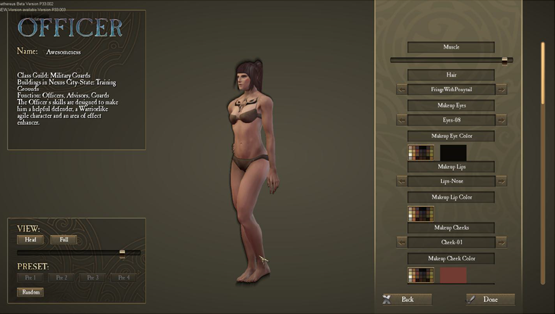 Character Creator
Character Classes
The Inventor Class is focused on powerful explosives including bombs, rockets, mines as well as other ingenious contraptions…
The Astrographer has a variety of Aethergem based weapons including a flame thrower, Molotov cocktails and other chemical based ordinance.
The Officer is an effective Tank with high powered melee assaults but also has a range of strategic skills such as defensive barriers and punji sticks.
The Character Creator allows you create your own unique player characters with a variety of physical and visual options.
________________________________________________________________
The Nexus City-State is your base of operations. Each player will be able to customize their own city using banner makers, visual options as well as creating personalized statues, using the statue maker game feature.
                                                 The Nexus City-State
________________________________________________________________
The Statue Maker Game Feature allows players to make and pose a variety of statues including that of their characters including equipped gear and weapons.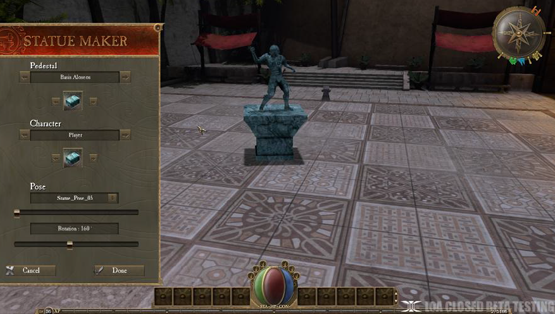 Statue Maker
________________________________________________________________
The Extensive Crafting System allows you to design customized gear with a variety of component and material options. This allows for a virtually unlimited amount of strategic options to be explored.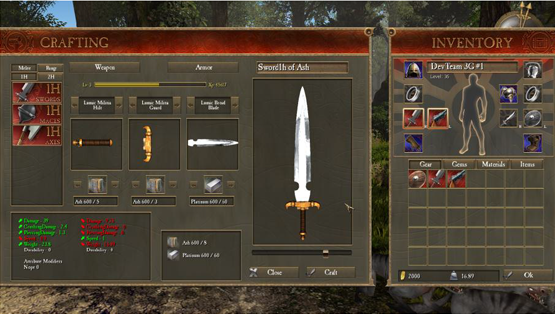 Crafting System
________________________________________________________________
Alana – Captain of the City-Guard is your mentor and contact for the main quest line. This plot line revolves around seeking out seven ancient relics of great power and maintaining power over the nexus.
                                          Alana – Captain of the City Guard
This won't be easy as the Ghalian Shaman and their minions the Khagal are also frantically searching after the relics…
Not to mention the fact that the Evil Venata Faction is not only planning to find the powerful relics before you … But also plotting to take over the Nexus and maintain totalitarian rule over all of Aethereus.
As a new Recruit in the Nexus City-State Guard you will be charged with protecting all that is good on Aethereus and cast into perilous adventures against powerful forces that will see the fall of the Nexus and the return of tyranny.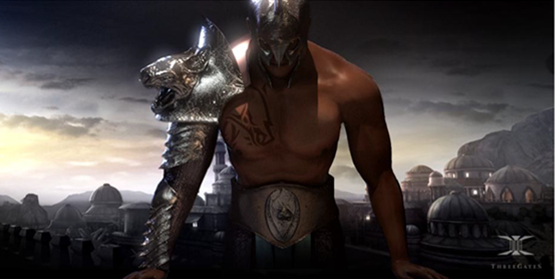 Venata Warrior
________________________________________________________________
As well as embarking on quests and expeditions that you will also be engaging in a variety of game types in the City Arena.
These include PvP, Coop and Single Player game types including: King of the Hill, Death match and Last Stand just to name a few.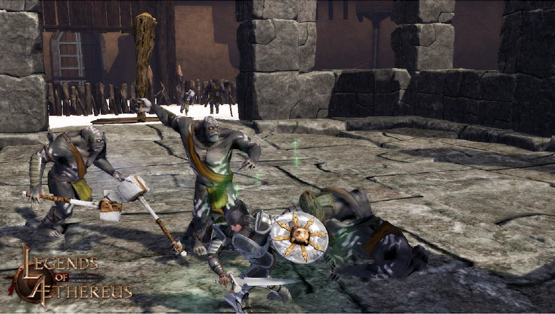 Arena Action – Last Stand Game Type
Legends of Aethereus : Kickstarter Q&A 1 – Character Attributes
Legends of Aethereus : Kickstarter Q&A Procedural Quest Generation
So show your support for this great project, pledge and get a wonderful game/s !